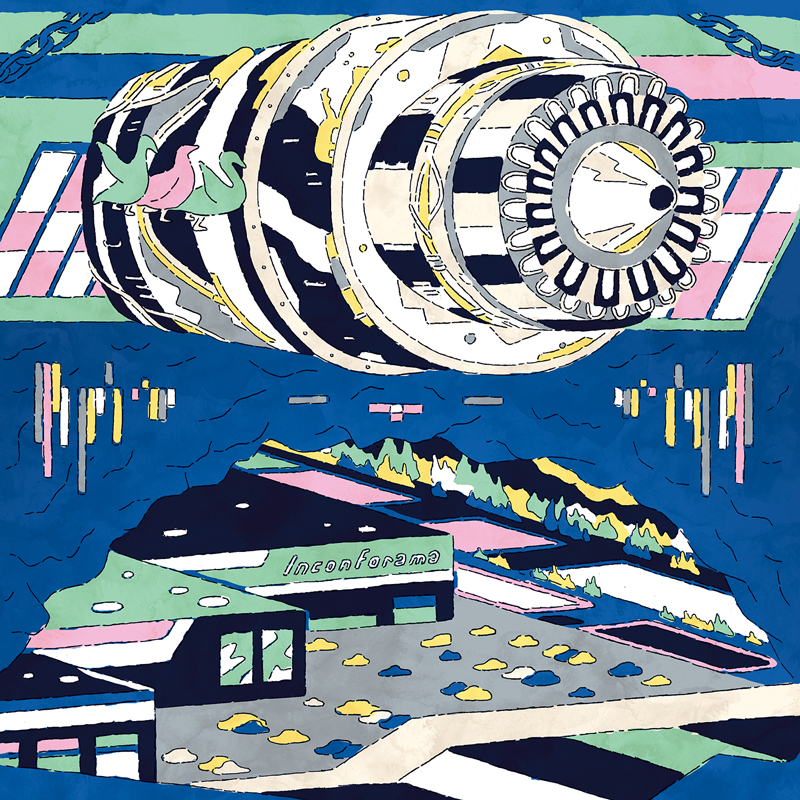 Les pochettes de 2 mixes réalisés par Sébastien Charlot et moi pour Maelström magazine,
appelés

Jardiland

et Inconforama.
The cover for 2 mixes that Sébastien Charlot and i have made for Maelström magazine,
called
Jardiland

and Inconforama.
Illustration pour "Parentologie", la chronique de Nicolas Santolaria sur la paternité diffusée par L'Époque (supplément du journal Le Monde) .
D.A. : Rodolph Boutanquoi et Christelle Laffitte.
Illustration for a Nicolas Santolaria chronicle about fatherhood for Le Monde's supplement "L'Époque".
A.D. :
Rodolph Boutanquoi.
Mon illustration à thème police Google pour le livre collectif "Parisaner 2050", paru aux éditions 10/18.
Elle a été exposée durant 3 ans aux côtés de 30 autres fausses couvertures de journal, dans le terminal 2E de l'aéroport Charles de Gaulle. Plus d'infos

ici

.
My Google police-themed illustration for the "Parisianer 2050" anthology.
It has been exhibited among 32 other fake magazine covers during 3 years in the Terminal 2E of Paris-Charles de Gaulle airport. More informations here.


(Photo : Sébastien Charlot).

The artwork for dDamage's mixtape "Fat rules", available on Noisey.


La pochette de la mixtape "Fat Rules" réalisée par dDamage pour Noisey.




D.A. : JB et Fred Hanak.






The back of Parisian concert venue Point Éphémère's january 2016 program.
AD by Kiblind magazine.


Le verso du programme du Point Éphémère de janvier 2016. DA : Maxime Gueugneau.